Checklist For Starting A Business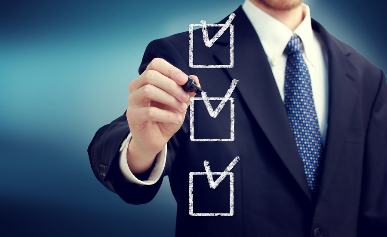 Starting a business necessitates research, risk, passion and planning. Unfortunately, no amount of enthusiasm, money or talent can guarantee success in business. While the business evaluation and establishment phases can be periods of great anxiety due to a combination of excitement, uncertainty and financial risk, you need to stay calm and keep your emotions in check.
There are some very important decisions to make during this phase and if you build the business on solid foundations you improve your chances of long term success. To help you get started we have put together a checklist of things you need to consider in the start-up phase. The list is long but it's certainly not exhaustive because every business is different. Of course, before any of these things happen you need to do your research on your industry, customers and competitors.
Ideally, you need to prepare a business plan that documents your blueprint for the future that includes the financial projections. Your business plan should provide an overview of where you plan to take your business and how you intend to get there. It is more than just a document to satisfy your financiers and too many entrepreneurs fail to document their business plan because they are waiting for more certainty regarding their current financials, funding or sales but your business plan should steer your activity, not the other way around.
Let's examine seven key components of your business start-up.
Œ1. Financials - before you invest hundreds of hours of research you need to make sure the business idea is financially viable. Commence by identifying all your start-up costs including IT expenses, plant and equipment, vehicles, furniture, marketing, property fit out costs and professional fees including legal and accounting.
Next, you need to project your sales and revenue for the first next 12 months of operation. It's not easy and you need to make assumptions. We can help you with some financial modelling based on your best, worst and likely scenarios. If you combine your income and expense projections you have the foundations of a cash flow budget that will also help determine if you are likely to need finance to fund operations. You can then produce a profit and loss forecast for year one of trading.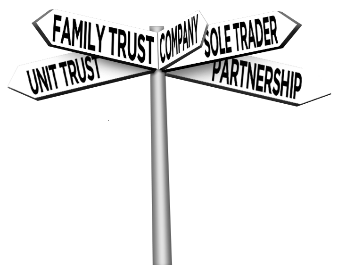 2. Business Structure - your business structure is the backbone of your business and when choosing the most appropriate structure for your business you need to take into account issues including asset protection, tax minimisation, your industry risk profile and the likely admission of new partners in the future. As a consequence, quite often your business structure will be a compromise based on the relative importance of each of these issues.
The most common tax structures in Australia are sole trader, partnership, company and trust. Each of these carry different legal and tax obligations so we urge you to consult with us because the wrong structure can have catastrophic consequences.
3. Accounting Software - again there are numerous options and the first decision you need to make is do you want a cloud based solution or a desktop program. A cloud based solution lets you access the software and your data files over the internet. Your data is securely stored 'in the cloud' rather than on your local hard drive or server which means you have access to your financial data from anywhere, at any time, using any device including your mobile phone or tablet. All you need is an internet connection.
Poor financial records are one of the biggest causes of business failure in this country and up to date, accurate financial records let you make informed business decisions. As accountants, one of our priorities is to help you minimise the cost of compliance and there are cloud based programs including Xero, MYOB Account Right, Saasu, Reckon One and Cashflow Manager that all come with different features, functionality and price tags. Without doubt, the most important thing is to match your business needs with your level of accounting skill to avoid producing computerised shoebox records.
There are other software programs and tools to consider on your checklist including a CRM system (customer relationship management) and tools to help you with lead generation, converting the leads into sales and payroll management.
4. Insurance - in business, you need to manage risk and insurance is designed to cover your financial losses should an insured risk event occur like fire or flood. Insurance does not change the law or reduce your fault but it effectively transfers the cost of potential losses to the insurance company. The type of insurances you are likely to need will depend on the type of business you're running and the industry you operate in. Some forms of insurance are compulsory including:
worker's compensation insurance (if you have employees)
third party personal insurance (for motor vehicles you own)
public liability insurance (for certain types of businesses)
There is a list of business insurances to consider including building and contents, car, professional indemnity, stock, tools, public liability, tax audit, income protection and others. One piece of advice we always offer is, you not only need appropriate insurances but you also need adequate cover. If you are under-insured, an event can bring a business to its knees.
5. Business Registrations - there are a number of registrations to consider during the start-up phase. Firstly, you need to check the availability of the business name through ASIC Connect. If the business name is available you can then register the name and then check the availability of the domain name for your website. Next, you can apply to get an Australian Business Number (ABN) and Tax File Number (TFN).
Depending on your projected turnover, you might also need to register for GST. If you are looking to employ staff there are additional registrations for PAYG withholding tax, staff superannuation plus worker's compensation insurance. If you have developed some intellectual property you need to look at registering a trade mark that is a way of identifying a unique product or service. A trade mark is not just 'a logo' and it can be a letter, number, word, phrase, sound, smell, shape, logo, picture, movement, aspect of packaging or combination of these. You can apply for a trade mark online at IP Australia.
6. Marketing Plan - in the social and digital era, your marketing could be the difference between gloom, doom and boom. You need a marketing plan and an impressive brand that resonates with your target market. We have already addressed the registration of your business name but your brand also includes a logo and slogan. Your trading name is a very important part of your brand and it shouldn't be left until late in the process. 'Paul's Plumbing' certainly doesn't work as well as 'On Time Plumbing'.
Your slogan or positioning statement needs to tell prospects what you offer and even spell out your point of difference. A great logo can bring your brand to 'life' and there are some very good online services you can including www.logotournament.com.
Your website sits at the hub of your marketing and you need a responsive, lead generation website that includes calls to action, lead magnets and an email marketing system. You also need to claim a number of listings including Google+ and various directory listings including Hotfrog and True Local. In addition, for maximum marketing effect you also need to consider social media accounts with Facebook, YouTube and Twitter.
'7. Legal – there are a number of legal issues to consider when starting a business. They can all vary based on your business structure, industry, if you employ staff and if you are renting a commercial property. For example, Fair Trading laws apply to product safety and standards plus a code of practice. There is also the Fair Work Act regarding employee terms and conditions and as an employer you need to understand your business's employment and payroll regulations and obligations. Other legal documents you might need to consider include non-disclosure agreements (NDA), employee and contractor agreements, terms and conditions clauses (sales and purchases), standards and codes of practice, lease and commercial agreements, disclaimers plus many more.
SUMMARY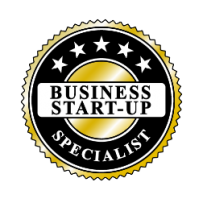 There is an old saying, 'people don't plan to fail, they just fail to plan.' This is both valuable advice and a warning for people intending to start a business. The above checklist should provide a useful guide when establishing your business but it's really just the tip if the iceberg. When starting a business it's important to seek sound professional accounting and legal advice. Having mentored so many clients through the start-up phase we invite you to contact us today.

---
Click HERE to download the full edition of The Business Accelerator Magazine for December 2016.
Other articles in this edition: