4 Ways To Grow A Business - How To Increase The Number of Times Customers Come Back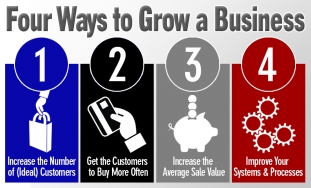 Clearly, everyone wants to grow their business, however, there is no magic potion or silver bullet. There are fundamentally only four ways to grow a business including:
Increase the number of customers (of the type you want)
Increase the number of times customers come back
Increase the average value of each sale you make
Increase the effectiveness of each process in your business.
Theoretically, it sounds simple but in reality you need a combination of strategy, tools and people who implement. In the digital age you need to be working ON your business and if you could increase each one of these four factors by just 10% the compound effect would be a staggering 46.4% increase in your revenue.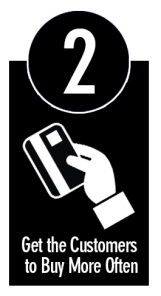 In the September 2015 edition of the Business Accelerator Magazine we addressed how to increase the number of customers so in this edition we will look at how to get your customers to come back and buy from you more often.
First of all, it makes sense to get your existing customers to come back and buy again based on research from Bain & Company who suggest it can cost up to 6 times more to win a new customer than it does to have an existing customer come back and buy from you again. Remember, you invested time and money to acquire that customer for the first sale but every additional sale involves minimal if any costs. The research also indicates that repeat purchasers spend more.
Let's face it, most business owners focus their marketing on chasing new customers. They advertise, make offers and will move hell and high water to win the attention of a new customer. Ironically, after winning that new customer they often ignore them in future marketing campaigns. For example, we see a lot of carpenters, electricians and plumbers chase new customers but they don't build a database to market to in the future. Too often, they simply assume the customer will remember them next time they need the services of a trade person. Restauranteurs are the same and it's easy to get your satisfied customers to sign up to a birthday or loyalty rewards club. When they decide to sell their services business it is devalued if there is no customer database attached to the sale.
So how can you encourage repeat business?
1. Identify Your Best Customers and Pamper Them
It all starts by having a customer database and then categorizing your clients. If you identify your repeat customers you can tailor your marketing to entice them to expand the range of products or services they buy from you. If you categorize your customer database into A, B, C and D grade customers you can develop ongoing communications and offers that are appropriate for each group.
For example, your A grade customers are your ideal type of customers who keep coming back and buying more from you. Think about creating a 'gold class' customer club who get special offers and pricing. Your A and B class customers could get exclusive offers and product samples while your D grade customers might just get your quarterly newsletter or catalogue. Ultimately you need to focus 80 percent of your attention on the top 20 percent of your customers.
2. Deliver Awesome Service
There's no point chasing new customers if you don't deliver great service because you'll end up with a revolving door – as a new customer walks in an existing customer will walk out. You should aim to delight your customers with a great buying experience so they keep coming back and share their positive experience on social media and drive more referrals. Your commitment to awesome service could turn out to be a real point of difference compared to your competitors.
Service standards including good telephone technique and even your speed of delivery and follow up can be systemised so all your staff know precisely what is expected. You want to delight your customers with your courteous approach, your point of sale, delivery and after sales service. This probably requires you to train the team so they deliver consistent, quality service.
Bain & Company research indicates a customer is 4 times more likely to defect to a competitor if the problem is service-related than price or product related.
3. Nurture Your Customers
Customer retention is critical to your ongoing success. These people have bought from your before, hopefully had a positive experience and simply need to be nurtured so they come back and buy again. It's just bad business to ignore an existing source of revenue that's right under your nose and the nurturing process is designed to make customers feel valued. Your communication is designed to help stay in touch and keep your business top of mind. Again, trades people are guilty of ignoring their customers and rarely communicate beyond the first 'sale'. A business card or fridge magnet left behind won't keep you top of mind so you need to think about developing more 'touch points' including things like a newsletter, special offers, service reminders, thank you notes and emails promoting new products or services.
When you've spent so much time, effort and money to earn the trust of your customers, it makes sense to nurture the relationship so they become brand loyalists. You could even establish a loyalty program that rewards frequent buyers and post-sale follow-up calls can strengthen your relationship with your customers. In a sense, real customer service is what you do between sales.
Ultimately you probably want your communications to upsell but consumers might prefer educational information on how to use the product better, other applications for the product or how the product can save them time with a 'cheat sheet' of ideas. In essence, they feel you're there to help them without trying to sell them anything. It shows you genuinely care and when customers are nurtured without being pressured to buy they tend to share the positive experience on social media or through word-of-mouth referrals.
In summary, existing customers trust you and they will consider purchasing other products from you. They provide the opportunity to cross-sell other products and online customer loyalty is a key driver of long-term business profitability. These loyal online customers, just like their offline counterparts spend more and McKinsey report that e-Commerce spending for new customers is $24.50 on average, compared to $52.50 for repeat customers. Existing customers refer and are more willing to expand their purchasing into new products and categories. As a consequence, they are more profitable than one-off shoppers and your marketing must entice them to keep coming back.
In the next edition of this newsletter we will look at the third way to grow your business, increase the average value of each sale.

---
Click HERE to download the full edition of The Business Accelerator Magazine for December 2015.
Other articles in this edition:
IMPORTANT DISCLAIMER:This newsletter is issued as a guide to clients and for their private information. This newsletter does not constitute advice. Clients should not act solely on the basis of the material contained in this newsletter. Items herein are general comments only and do not convey advice per se. Also changes in legislation may occur quickly. We therefore recommend that our formal advice be sought before acting in any of these areas.