WANT MORE WEBSITE TRAFFIC?
How Small Business Can Leverage The Power Of Local Search
For most businesses, your website is your nerve centre and often the first touch point with a potential new customer, client or patient. The challenge for most business owners is to attract more website visitors which means getting your business to appear in Google when potential customers search for a business like yours.
In this article we will examine 'local search' and how your business can leverage the power of local search to win more website traffic, leads and sales.
So, what is local search?
If you've ever thought about using a service or finding a particular product in your local area you probably Google it. Basically, everything that appears in the Google search results is local search marketing. Also, anything you search for with a 'near me' extension like 'emergency plumber near me' is local search.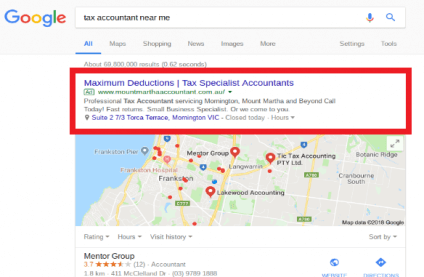 To illustrate how local search works, let's Google 'tax accountant near me'. The search engines (mainly Google in this country) will assume you want a business that is local to you. When the results display there are several different components to the local search on display.
❶  The first section highlighted in red is Paid Advertising. This is the 'Rivers of Gold' for Google and the business highlighted in this section is paying for the privilege of being seen before anyone else. Every time someone clicks on that ad, that accounting firm pays Google for that click going to their website.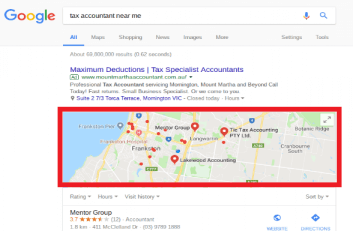 ❷  The next section (just below the paid advertising section) highlighted in red is Local Maps. This is where you can really start to see the results of your local search marketing. The local map is based on a search for 'tax accountant near me' and it knows my location at the time of the search and it populates the map with local accountants that specialise in tax. It pinpoints where they are based in my local area.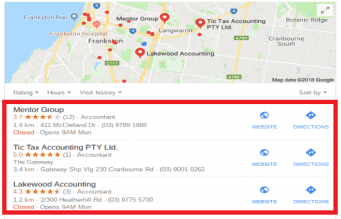 ❸  The next section below the map is called the 'local pack' or the 'local search content'. It displays the most relevant information based on the search query. The results on display will be close to my location. To get listed the business must have a live website that includes their opening hours. Google doesn't want to send you to a local business that is about to close, based on the time it will take you to get there.
To appear in the results, you need a Google My Business page and there's a simple verification process you need to go through.
Having Google Reviews is paramount to being listed in the local pack and they also factor in the positivity of the reviews. Reviews are third party endorsement that people give you, so that other people can see what level of service you offer. The more the better and your review velocity is a ranking factor which is how frequent you get reviews and have a steady stream of reviews. Your review diversity is also taken into account which means they don't want to see you're getting all five-star reviews or all one star reviews.
The Power of Local Search
To illustrate the power of local search marketing let's look at a couple of examples starting with a search for an 'emergency plumber in Oakleigh'. Now this isn't a search for any plumber, it's specifically for an emergency plumber and they need to be in the Melbourne suburb of Oakleigh.
You would imagine it would be very difficult to run a business based on just doing emergency plumbing and just in Oakleigh. The map highlights the area where the search results will come from. How many monthly searches would you expect for the search term, 'emergency plumber in Oakleigh'? Would you believe just shy of six and a half thousand people per month or close to 78,000 per annum!
Given that number, let's try and quantify the potential revenue this might generate.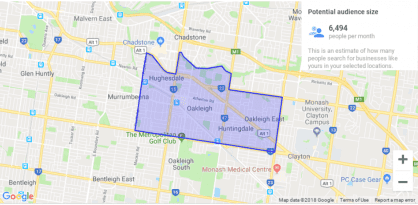 Let's assume you could attract just 2% of the 6,494 monthly searches. That means you would get 129 people to contact you and if you could convert 25% of those leads into customers you would attract 32 new customers in that month. If the average emergency plumbing job in Oakleigh was $500 that translates to $16,000 of additional revenue for the month or $192,000 per annum. If you were ambitious and thought you could get 10% of the leads and convert 50% to customers at $500 per job that would add $162,000 per month or $1,944,000 per annum in additional revenue. 
The next example is 'barber shop Parramatta'. Again, it's just the suburb of Parramatta and it's just barbers so it doesn't include hairdressers. You'd assume there wouldn't be a huge demand, however, that search attracts more than twenty five thousand queries a month! If you could attract 5% of that market and converted 33% of them to customers paying $25 per haircut that would equate to extra monthly revenue of $10,312 or $123,750 per annum.
Finally, let's look at 'mobile mechanic in Chermside'. Chermside is a well-known area just north of Brisbane and a touch over twenty one thousand people are looking for a mobile mechanic each month in Chermside. They're not looking for an auto mechanic. They're looking for someone who's actually going to come to their premises and conduct whatever it is they need done on their car. Doing the sums, if you could attract 2% of the 21,000 people each month and converted 25% of them into customers paying $350 per job that would equate to extra monthly revenue of $36,750 or $441,000 per annum.
So, what do you need to have to rank highly? Firstly, they want to make sure that you're within the proximity of the searcher. They want to make sure that you offer the category of service or product that they're searching for and that you have the keywords in your Google My Business listing that are in natural language and are relevant to the search query. You also need 'link signals' which is other websites within the area that are linking to your website. We have already mentioned the importance of Google Reviews and there are other factors including page signals and citation signals.
The key take away message is, local search or local area marketing from a digital perspective is a huge opportunity for all businesses.  Of course, getting traffic to your website is only half the battle. Your website has to prove you have the product they want or the solution to their problem. Your reviews should support your level of service and customer satisfaction.
Remember, before a prospect will pick up the phone and call you, they will check out your website to verify your credibility and expertise. Your website is the nerve centre for your business and if it's outdated and reflects your business from 5 or even ten years ago, then all the work to attract more traffic is down the drain. In business you only get one chance to make a first impression. 
We recently delivered a 25 minute webinar on this topic and it is available to view here :-

Or on the Marketing page of our website.
This article forms part of our March 2019 Business Accelerator Magazine. Click HERE to download the latest edition or browse other articles below:-
---
Other Articles in this Edition: