Expand Your Customer Base With Facebook Advertising
Though Facebook is now largely a paid advertising medium, it's still every marketer's dream. With access to about 15 million active users in Australia, the social media channel is rich with data which can get your business in front of very specific and often motivated prospective customers.
It sounds simple but mastering Facebook's targeted audience feature can be confusing as there are so many tools at your disposal. To get you started, let's look at 4 ways you can use Facebook to help you find more of your ideal type of new customers.
Before You Start - Who's Your Target?
Facebook audience insights can tell you a lot about your customers including their shopping behaviour, household income and location. Essentially, you're buying data from Facebook when you invest in their advertising. With Facebook advertising, it's not so much about reaching the most people as it is reaching the right people. When it comes to targeting and reaching your audience with an engaging message, you need to have a clear picture of what types of people you are looking to put your message in front of. You can find the answers to these questions through data and research.
One of the best places to look to learn more about your audience is Facebook's Audience Insights.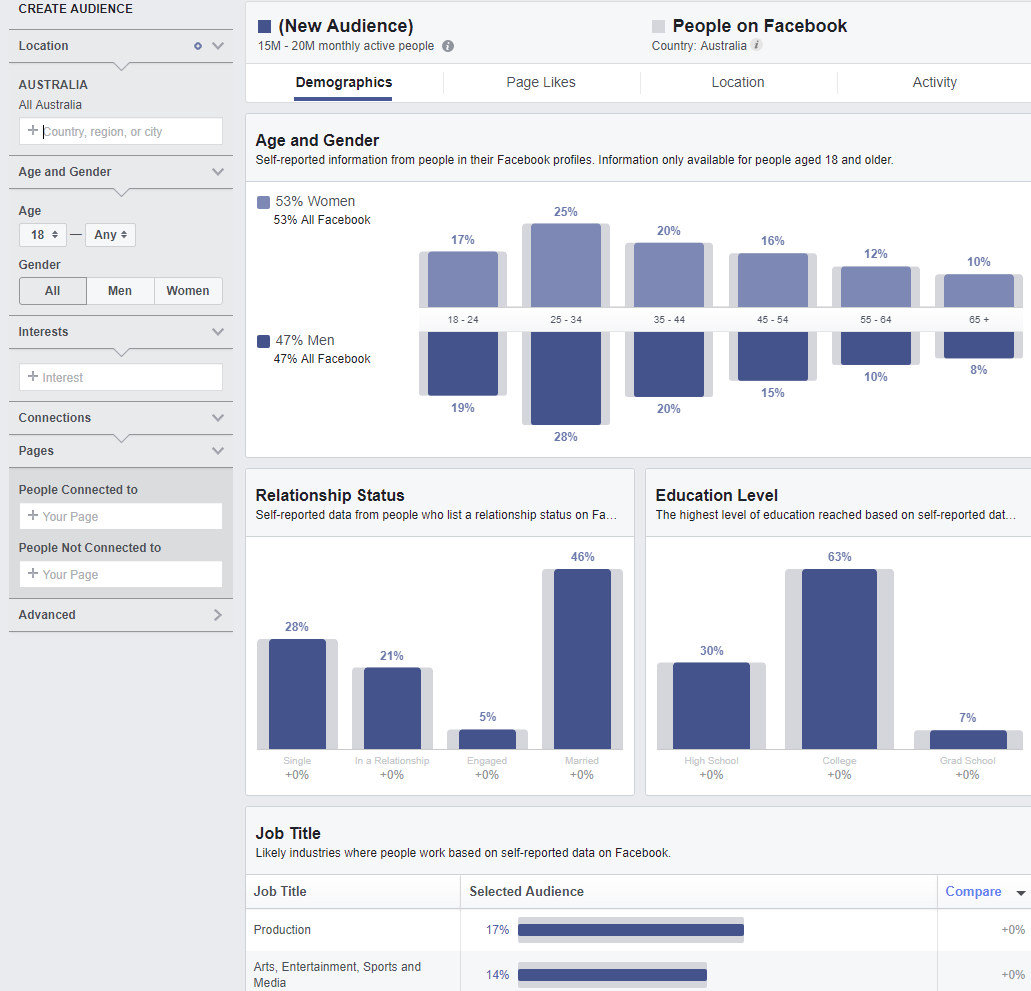 Audience Insights gives you an opportunity to learn more about your specific audience by selecting the option of choosing 'People Connected to your Page'. Note, you need to have enough page likes to access information including the age and gender, relationship status, education level and job title (industries). In addition, you can access top categories which is what other type of pages your audience reacts to and what Facebook pages are likely to be relevant to your audience based on their previous likes. This information can be useful in terms of where to pitch the tone of your Facebook advertising and posts based on their industry or job title.
These insights can be used to craft very specific advertising messages based on location, interests, gender, job title, the device they use to browse with and just about any combination of criteria you can imagine.
1. Find People That Match Your Existing Customers (Look Alike Audience)
If you already have an existing customer base, Facebook can help you find people like your existing customers. This feature is called a 'Look Alike' audience. To create a look alike audience, you will need to upload a CSV file including email addresses and other data from at least 20 of your existing customers to Facebook. You could create Look Alike audiences of your newsletter subscribers, or people who visit specific pages on your website, or of your Fans. The options are endless. As long as you have created a Custom or Remarketing Audience in Facebook Ads, you can create a Look Alike Audience. Facebook's algorithms will then search for customers with similar interests and the browsing and buying behaviour of your existing customers.
Once you've decided which audience you want to replicate and expand on, you can make the audience larger or smaller (the smallest Audience most closely matching your source Audience, and the biggest Audience maximising reach rather than closely matching your source database).
2. Create New Audience Based on Similar Page Likes
Through the Audience Insight page, you can create a New Audience on just about any demographic. Start with what Country (City, down to a specific Suburb) you want to target, then Age and Gender, Interests, Connections, Education, Language, Relationship Status, Upcoming Life Events (e.g. birthdays) etc. It will show you the potential reach of your new audience and you can save any number of combinations as separate audiences in your Ad Manager to be used depending on what advertising you want to undertake.
Facebook has a lot of data on its users, so much that they can determine how likely someone is likely to buy your product or fill in a contact form. Depending on your conversion goal, they will show your ad to people most likely to convert i.e. add to cart, view content, purchase. What this means is you can measure your return on your ad spend.
3. Convert Visitors into Customers
Not everyone who visits your website will be a customer but their first interaction with your website doesn't need to be the last. A Remarketing Audience is a group of people who visit any page of your website that contains the remarketing pixel (a 'pixel' or'tag' is a piece of code on your website, when loaded, links the person viewing your web page to the advertising account). You can create ads that are shown specifically to people who have visited any page of your website (all traffic) or who visit some pages of your website. For example, Bob the Builder could create an ad that targets the people who visited their website but didn't request a complimentary consultation.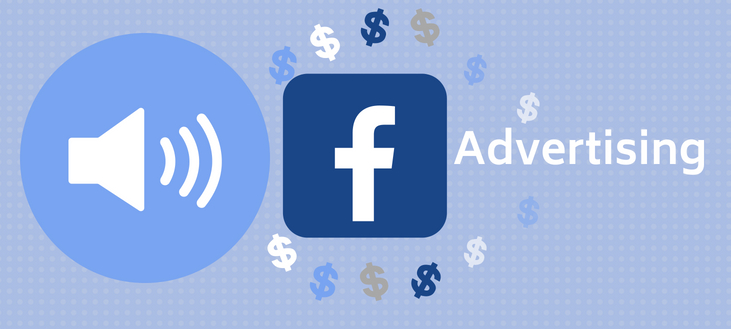 4. Collect Leads Straight from The Platform (No Landing Pages)
If you are in the services industry, you probably rely on leads to sustain and grow your business. With Facebook lead generation ads, you can collect leads straight from the social platform. The upside of Facebook lead generation ads is that it offers Facebook users the option to request a call or more information without clicking through to your website.
These four features only scratch the surface of the potential of a Facebook Ad campaign. There are also tools and data to measure the effectiveness (ROI) to monitor the results and then tweak future ad campaigns.

---
This article forms part of our September 2018 Business Accelerator Magazine. Click HERE to download the full edition or browse other articles in this edition below:
Other Articles in this Edition:
IMPORTANT DISCLAIMER: This article contains general advice only and is prepared without taking into account your particular objectives, financial circumstances and needs. The information provided is not a substitute for legal, tax and financial product advice. Before making any decision based on this information, you should speak to a licensed financial advisor who should assess its relevance to your individual circumstances. While the firm believes the information is accurate, no warranty is given as to its accuracy and persons who rely on this information do so at their own risk. The information provided in this article is not considered financial product advice for the purposes of the Corporations Act 2001.