Marketing Corner - It's Not All About You
When it comes to marketing there are certain non-negotiable guidelines that need to be followed. The golden rule is, your marketing content needs to be all about your prospects and not about you.
If you examine your current marketing content do you talk about our people, our products, our experience, our services, our offices and our knowledge? This is incredibly common and while it's much easier to talk about you and your business, it's not engaging with your customers and your prospects.
The challenge is to create marketing copy that addresses the one thing that counts, what your prospects will get out of working with you! Your message needs to get their attention in under 10 seconds on your website and if your message is about you and not them, you've missed an opportunity.
Solve Their Problems
You need to show an understanding of their challenges and look like the business that can solve those problems. You need to display that you can deliver value and that you are planning on helping them. If so, they might be prepared to stay on your website for longer and learn more about your business and your offerings. Failing to connect means your prospect is only a click away from a competitor's website.
Be Different
Today's buyers have already done their online research. When they find you, they probably already know two or three of your competitors and have a feel for prices. So, they are looking for something that makes you stand out or makes you different. If you fail to deliver something better than the competition then you're at the back of the queue. What do you deliver that's remarkable?
Social Proof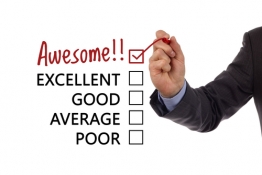 Your prospects want proof that you've helped other customers or clients with similar issues. They need to see testimonials, videos, case studies and success stories. Supporting proof is reassuring and provides confidence in your solution.
Changing your marketing message is not difficult, it just takes a prospect-focused approach. Write your copy with a 'you and your' approach, not a 'we and us' approach. Make sure your message is tuned into the prospect's radio station, W.I.F.M. (What's In It For Me) rather than churning out the same company-focused material.
---
Click HERE to download the full edition of The Business Accelerator Magazine for September 2015.
Other articles in this edition:
IMPORTANT DISCLAIMER:This newsletter is issued as a guide to clients and for their private information. This newsletter does not constitute advice. Clients should not act solely on the basis of the material contained in this newsletter. Items herein are general comments only and do not convey advice per se. Also changes in legislation may occur quickly. We therefore recommend that our formal advice be sought before acting in any of these areas.