Do You Need a Dot Com or a Dot Com.Au Domain Name?
Your domain name is your online identity. Your online shopfront if you will. It helps your customers or clients find your business online and just like a physical shop front, it should be memorable and easy to find. One question that is often posed is, should my business register for a .com or .com.au domain? The answer to this question will depend on the nature of your business and below are some guidelines to help you decide which website extension suits your needs:
1. What is Your Location?
If the bulk of your customers are based within Australia, or if you only target people living within Australia, then a .com.au extension will best suit your needs. This address helps search engines, such as Google, to direct traffic to your site from Australian browsers. This is pertinent if you have an e-commerce store or services that only caters to Australian residents.
By registering a .com.au domain name for your Australian business, you indicate to Google that you are based in Australia, and this could lead to greater visibility when Australian consumers are searching for local suppliers of products or services like yours. If you mainly cater for customers in your local area within Sydney or Melbourne, a .Sydney or .Melbourne domain name may be of benefit. In the same way a .org domain name is synonymous with not-for-profit organisations, a .Sydney or .Melbourne domain name assists in signifying local presence, which would be especially relevant for products or services where people are likely to prefer local suppliers. Builders, plumbers, local shop owners and professional services providers i.e. dentists could benefit from a .Sydney or a .Melbourne domain. These domains can always be obtained and re-directed to your main domain name also.
If your products or services are a worldwide offering, a .com domain may be the best option.
Of course, your domain name won't be the only driver for relevant traffic, but it does add weight to how your site is ranked. Your website content, page speed and user experience amongst other things will influence your page rankings in Google and other search engines.
2. Do You Intend to Expand Your Business Globally?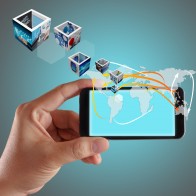 If you plan to offer your product or services globally, you'll need a .com domain as it is the most recognised domain extension. Even if you are unsure about scaling your business in the future, it may be prudent to register the .com extension now, just in case your competitors are eyeing it off.
3. Is Your Domain Available?
It's a fairly obvious question but an important one. If your proposed domain name has already been taken you can contact the owner of the domain name and request to buy it but this might prove costly. If both your proposed .com and the .com.au domains are unavailable, a local domain like .Sydney or .Melbourne may serve as a suitable domain extension if it's applicable.

Click HERE to download the full edition of The Business Accelerator Magazine for December 2017.
---
Other Articles in This Edition: