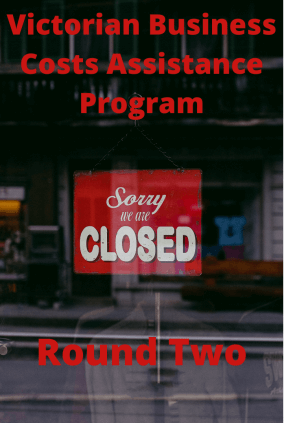 Victorian Small Business Snap Lockdown Grants
Victorian Business Costs Assistance Program (Round Two)
The Business Costs Assistance opened for registration today (Friday 4th June, 2021) and applications will remain open until 11.59pm on Thursday 24th June 2021.
To be eligible, businesses must:
be located within Victoria
operate in an eligible sector listed in the list of eligible ANZSIC classes for this program
have incurred direct costs because of the restrictions and cannot fully operate remotely
have an annual Victorian payroll of up to $10 million in 2019-20 on an ungrouped basis
have been registered for Goods and Services Tax (GST) on Thursday 27 May 2021
hold an Australian Business Number (ABN) and have held that ABN at Thursday 27 May 2021
be registered with the responsible Federal or State regulator.
Employing businesses must also:
be registered with WorkSafe Victoria
attest that the business is supporting its workers to access any paid leave entitlements, or that if a person can work from home, to work from home during the circuit breaker action, and supporting their casual workers, where possible.
Eligible businesses with an annual payroll of up to $10 million can receive a one-off grant of $2,500 where the business was subject to restrictions between 28th May and 3rd June 2021 (Victoria) or $5,000 if the restrictions were extended past 3rd June (Melbourne).
For eligible sectors please see the list at eligible ANZSIC classes. The eligible industries included in the list of ANZSIC codes is broader in this round than earlier rounds because JobKeeper and other financial support is no longer available.
Click here to APPLY NOW
Licensed Hospitality Venue Fund 2021
This Fund is designed to support venues registered to serve food and alcohol and includes bars, restaurants, pubs, clubs, hotels, cafés, and reception centres impacted by the recent restrictions in Victoria. Eligible licensees will be invited by Business Victoria to apply for a grant of either $3500 or $7000. These invitations will be issued to the registered e-Licence email registered by the licensee on the Liquor Portal account with the Victorian Commission for Gambling and Liquor Regulation.
Licensees should create a Liquor Portal account now if they don't already have one to be able to apply between 3rd June until 11.59pm to Thursday 24th June 2021.
Events Support Program
The Events Support Package helps the event industry, including large event operators and suppliers, event promoters, producers and other businesses that deliver live performance events that have had events and work cancelled due to the recent restrictions in Victoria. Further details on this program will be announced soon.
Temporary COVID Disaster Payment for Employees
The Federal Government has announced a 'temporary COVID disaster payment' available to workers in states and territories which have been declared a Commonwealth hotspot and a lockdown longer than a week is required.
A payment of $500 a week for eligible workers* (over 17 years who would normally work more than 20 hours per week) or $325 (if working less than 20 hours) will be made available.
* To be eligible the worker must declare they would have worked if a lockdown had not been imposed and has lost income as a result. They need to have used up any pandemic sick leave, annual or any other type of leave the employer offers and have less than $10,000 in 'liquid assets'. They must also not be receiving any other kinds of Commonwealth support payments such as JobSeeker.
Applications will be online via Services Australia from Tuesday 8th June and you will need a myGov ID to apply.
As always, don't hesitate to contact us if you need any advice or help around these issues.