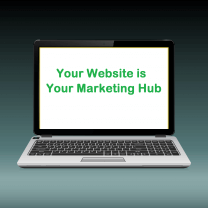 The Foundation Stones Of A New
Business (Part 8) – Your Website
It's exciting when you have that light bulb moment, that flash of brilliance and idea for your new business. It's hard not to get carried away with the excitement but turning your idea into a business necessitates research, risk, passion and planning.  
There are very few shortcuts to business success and there are numerous issues you need to address before you can open your doors. Having mentored hundreds of business owners through the start-up phase we often say starting a business is like building a house. You need to have a plan and build on solid foundations. In a business sense this means having things like the right business structure, branding, accounting software and insurances. In the digital and social age you also need to have a website.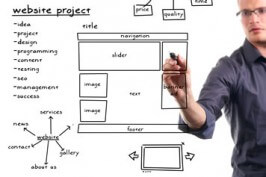 You'll now find most of your potential customers start their research online with a Google search, so your website is probably the first touch point with a prospective new customer or client. You need to make a good first impression and an amateurish website (or no website at all) is a 'customer killer'. There is research to suggest that people referred to you will shy away from your business and never contact you if your website doesn't appeal to their needs. 
When you finally open the doors of your business, don't expect a queue of customers unless you have the right marketing tactics in place. If you think the moment your website goes live you'll be inundated with orders, think again. With websites, it's not a case of 'build it and they will come' because Google can take 3 or more months to index your content. This means you could be invisible on internet for months after launching your business.
Your website is effectively your online shopfront, your silent salesperson and your primary growth engine. It works 24/7, 365 days of the year to tell your story and entice prospects to take the next step and contact you. It is your marketing hub that houses all your content and draws traffic from multiple sources including your social media channels. For most businesses, it is your most important marketing tool yet so many websites are simply 'electronic billboards' that list the who, what and where of the business.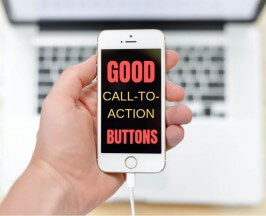 By contrast, high performing websites generate leads and provide free resources, encourage comments and discussion plus have calls-to-action on every page to steer prospects through to the next stage of the process. They target ideal types of customers and railroad them to take action - subscribe to your newsletter, download an e-book or 'Contact Us' to book a free consultation.
Remember, your website is an investment, not a cost. It's never finished and will remain a constant work in progress. A lot of business owners think, 'build it and they will come' but there are some key elements you need to have to make your website work including Search Engine Optimization (SEO), video content, a blog, social proof and backlinks. Let's explore some of these website essentials.
SEARCH ENGINE OPTIMISATION
Search Engine Optimisation (or SEO) continues to evolve and in the past few years we've seen Google make a consistent push for rich content, quality links and a perfect mobile experience. Of course, your website needs to be visible to the search engines like Google and you want your website pages to appear on the first page of a Google search for key words and phrases in your industry.
SEO is not rocket science, but it is a science that requires research and original, quality content that could come in many forms including on page text, videos, e-books and images. That content should target your ideal customer and spell out your expertise, specialist services and niche markets.
Before we give you advice on what to include on your website it's important that you understand search engine rankings. Firstly, a lot of people get caught up in the aesthetics of their website. While the appearance is important, business owners often let 'pretty' get in the way of progress when building their website. You can have the most beautiful website in the world but if you get no traffic it won't convert to sales. 
The fact is, not all websites are created equal and every industry is littered with 'off the shelf' template type websites that are stuffed full of generic content. The vast majority are just a shell with very little content beyond the who, the what and the where of the business. Understand that these sites can look fantastic but Google and the other search engines are 'colour blind' and cannot see the layout. They can, however, read the content and will downgrade websites that are full of duplicate content.
Research suggests that 60 percent of visitors don't go beyond the third position on page one of a Google search. This highlights the importance of Search Engine Optimization and to win the coveted top spot in the rankings, Google offers some very simple advice. Forget about trying to beat the system and focus on building a great website full of relevant, interesting and original content. A good search ranking will follow naturally.
The majority of your competitor's websites are simply 'online brochures' that lack SEO. They treat their website as yet another business expense and they lack calls to action, lead magnets, social proof and videos. Some of them aren't even responsive to smart phones so you have a great opportunity to launch and grab a share of the market. The internet provides a level playing field and a new small business with a great website can compete with established large businesses.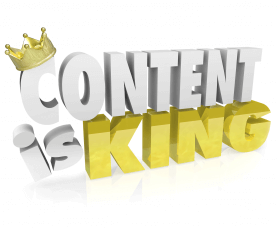 CONTENT
Content is clearly one of the most important Google ranking factors and content marketing isn't about producing more content, it's about producing quality content that engages your target audience. Teach customers, don't just sell to them. Offer content like e-books, whitepapers, videos and infographics that answers their most frequently asked questions. Help solve their worst pains, problems and frustrations. The right content positions you as a thought leader and problem solver.
Even though we don't know Google's precise ranking formulas, we do know they look at just about every aspect of your website including its age, domain name, freshness of content, HTML and page structure, accessibility, response time, social sharing and incoming links. The list goes on and there's certainly a lot of debate about which of these factors are the most important given the changes to Google's algorithms. The one thing we do know is, content is still king.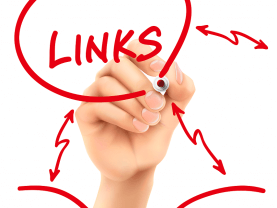 BACKLINKS
Backlinks or Inbound Links (IBL's) are an important Google ranking factor. They are links from other websites that are directed towards your website. The number of backlinks a website has is an indicator of its popularity or importance with search engines like Google. They give more credit to websites that have a larger number of quality backlinks and deem them more relevant in a search query.
It's important to understand that it's not just about the volume of inbound links, it's also about the quality of the backlinks. For search engines to determine the quality of inbound links they crawl and examine the content of the websites you are getting the link from to assess the relevance of the content on your site. The more relevant the links are to your site the higher the quality.
Quality backlinks produce a higher ranking and are usually:
The theme of the backlinking website is the same as your website
It links to your website with the keyword (key phrase) that you are trying to optimize for
Google will favour a website that has thousands of backlinks, because that means that other people are putting links to your site in their content. This implies that people find your website to be helpful and reliable, and worth sharing with others. Because of this, Google will rank your site more highly in keyword search results than similarly themed sites with fewer backlinks.
Online tools exist to help you find related websites that might provide you with a back link.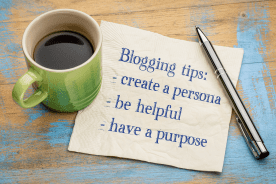 BLOG
Having a blog like this is an effective way to drive traffic to your website and attract more new customers. It can help boost your SEO because Google (and the other search engines) crave fresh content and blogging regularly feeds them new content to index. It also gives you the opportunity to include those vital keywords in your posts to increase your visibility on search engine results pages (SERPS).
Blogging lets you connect with your website visitors by inviting them to comment and share your posts. The more you write about topics that your ideal customers are searching for the better and every time you blog, you create an opportunity for free marketing. Your readers can share your blog with others, tweet it or email it. By responding to reader's comments, you can build rapport and trust with them. Irrespective of the size of your business, you can position yourself as a thought leader and industry expert by providing valuable insights in your content.
Blogging also provides relevant and interesting content to include in your social media posts and email marketing campaigns. This ensures your social media and email campaigns don't become too promotional and therefore uninteresting. With minimal effort and cost you can increase traffic to your website and nurture relationships with customers and prospects. Blogging is an important part of your marketing arsenal.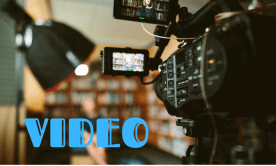 VIDEO
Videos, like your blog, plays a big part in SEO. In fact, research suggests you're 53 times more likely to get a page one listing on Google with video content embedded on your website. It's not even just all about Google anymore, YouTube is now the second biggest search engine behind Google, so video content is critical to prospective customers finding your business.
Video is a crucial part of converting prospects into paying customers and if a website visitor doesn't see something they like in 8 to 20 seconds they'll move onto another website. They say, a picture paints a thousand words, however, one minute of video is statistically worth 1.8 million words! You need to incorporate video into your marketing plans and YouTube now has over a billion users who watch millions of hours of video every day. You can tap into these viewers by creating your own videos and putting them on your YouTube channel. They are then indexed by Google (who owns YouTube) so the challenge is to optimise them for the search engines.
You can also reach YouTube's audience via a wide range of YouTube's video advertising options including banners and commercials. If you want to reach more people on Facebook, then start using video because that platform now claims to have hit an average of eight billion daily video views. Research suggests that 78% of people watch video online at least once a week and if your target market is the millennial generation (born between 1978 to 2000) then video is a must have on your website.
The majority of people are visual learners and prefer to watch rather than read content. It's no surprise to find video can lead directly to sales with studies showing that 74% of users who watched a product explainer video subsequently bought the product. Videos can also increase the time spent by visitors on your website which can affect your search engine ranking. Longer exposure builds trust and signals to the search engines that your site has relevant content.
Producing a video is a process and just like any other marketing strategy, it requires planning. Today, every business owner needs to be a publisher and while you may not have the resources, experience or budget of a Hollywood producer, video production is relatively simple thanks to modern day cameras (including mobile phones) and desktop editing software. Your videos don't need to be a 'Titanic' production, but you might have a video that is your showpiece that sits proudly on your website's home page while a number of secondary videos sit elsewhere on your website. They could be simple product demonstration videos that don't need the polish or production quality of a high impact corporate video for a professional services firm.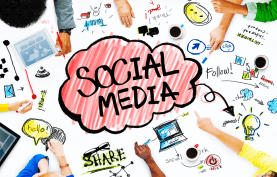 SOCIAL MEDIA
Of course, if we're talking about marketing, it's impossible not to mention Social Media. When starting a business, you need to consider creating accounts for channels like Facebook, Twitter, YouTube, Instagram and others. Businesses need to have a strong social-media presence to reach their current and potential customers who are constantly connected on their mobile devices. The evidence is conclusive, social media is an incredibly powerful marketing tool that can impact on revenue and sales.
As a start-up, you need to compete with established businesses in your industry and it's almost impossible if you aren't active on social media. Consumers are seeking a solution to their problems and social media is a 'go to' destination. Social media also helps build relationships with your customers. You can interact with them and get an insight into their lives and preferences. By reading their tweets and status updates you can learn what products are they buying, what they do on weekends, what kind of posts do they share and from what websites.
Google organic ranking placements include a factor called 'Social Signal' that this is based on your usage, frequency and influence in social media. As a business start-up, you can't afford not to have social media in your marketing.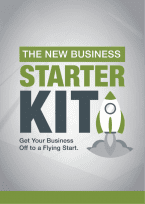 We understand the business evaluation and establishment phases can be periods of great anxiety due to a combination of excitement, uncertainty and financial risk. Over the years we have built a reputation as business start-up specialists and have put together a range of tools, templates and checklists to help you get your business off to a flying start. If you're contemplating starting a business talk to us today about our New Business Starter Kit that contains templates for a business plan, cash flow budget, profit and loss forecast together with our unique 82 step start-up checklist.
DISCLAIMER

This is general information only. It simply provides an overview of alternative business structures available at the date of publication. It does not serve as advice and no action should be taken on the information provided herein without consulting the relevant legislation or seeking professional advice from your accountant, solicitor or professional advisor. No responsibility for loss occasioned by any person acting on the material contained in this document can be accepted by the accounting firm.